Palakh paneer.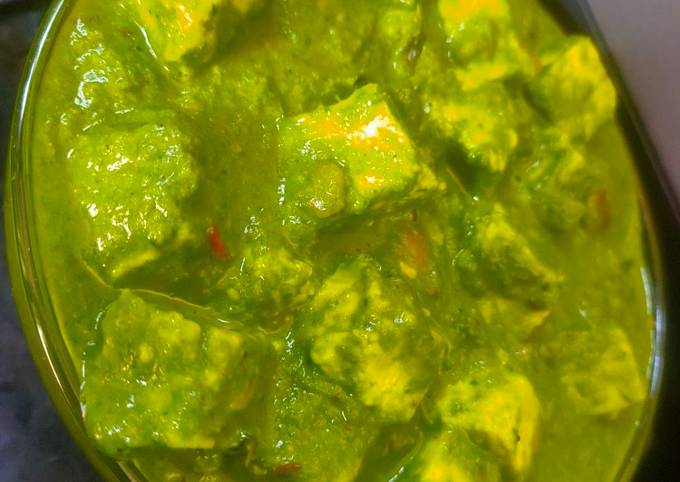 You can have Palakh paneer using 16 ingredients and 10 steps. Here is how you achieve that.
Ingredients of Palakh paneer
You need 3 standard measuring cup of tightly filled spinach.
Prepare 2 (or 1 big onion + 1/2 cup spring onions) of onions chopped.
Prepare 1 large size of tomato finely chopped.
Prepare 8-9 cloves of garlic (or 5 cloves + 1/4 cup green garlic) paste.
It's 2 inches of ginger paste.
You need 5 +/- of green chillies (depends on it's spiciness. I used 15).
It's of Salt.
Prepare 1 tsp of garam masala.
It's 1 tsp of kasoori methi.
Prepare 4 tbsp of oil.
It's 8-10 of cashew (soaked in water for 30 minutes).
Prepare 2 inches of cinnamon sticks.
You need 2 of green cardemom.
Prepare 4 of cloves.
It's 1/4 tsp of jeera.
It's 150-200 gr of paneer.
Palakh paneer step by step
Thoroughly remove stems from spinach. Wash, drain and then dry on a cloth..
Heat 1 tbsp oil in a pan and saute green chillies, spring onions and green garlic (if using) and spinach for 4-5 minutes or till the raw smell of them disappears..
Grind cashew along with water into paste. Add spinach mixure in the same and grind again into smooth paste. Keep aside..
Take 3 tbsp oil in a pan. Add jeera, cinnamon, cardemom and cloves. When they leave aroma, add ginger garlic paste. Saute for a minute and add onions next. Saute till they are translucent and tender..
Add tomatoes and salt. Fry till the tomatoes are mushy. Add garam masala and kasoori methi. Saute till oil release. Turn off the heat and keep aside till it cools down. Grind it into fine paste. Heat 1 tbsp oil. Add the onion tomato paste along with 150 ml water. Cover and let it boil for 2-3 minutes or until you get the desired thickness..
Add the green paste and paneer. Combine well. Add water if it looks too thick. Bring it to a boil (for not more than 2-3 minutes). Add chopped green chillies if the gravy is not spicy enough..
The green colour of sabzi in the picture is unedited. This recipe gives it lushy green colour. Following are the tips for the colour…1. very little use of garam masala powder 2. Adding cashew paste. 3. Not over cooking spinach/gravy..
Spinach : 1. Avoid using dark green leaves of spinach as they taste bitter. 2. It is important to remove stems from spinach to avoid bitterness..
Paneer : no need to sauté paneer. You can directly add it in the gravy. Yet if you want to sauté, do it only a little till paneer heats up. Over heating will make paneer chewy. Transfer paneer straight to sabzi after sauteing. Or rest it in warm water while the sabzi is still being cooked. Soft and creamy paneer tastes nice in this sabzi..
You can totally skip the grinding of red gravy. I grind it as my hubby likes very smooth gravy. You may also garnish it with fresh cream..