Keema & Couscous Paratha.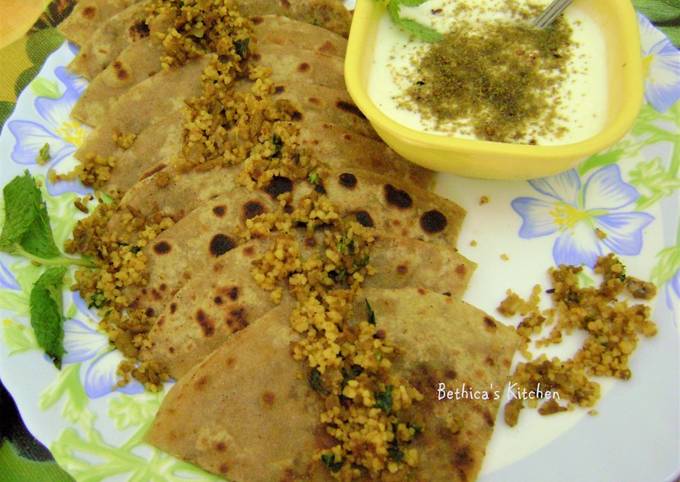 You can cook Keema & Couscous Paratha using 14 ingredients and 7 steps. Here is how you cook that.
Ingredients of Keema & Couscous Paratha
It's 100 gms of chicken mince.
It's 1/4 cup of couscous, soaked in 1/4 cup hot water for 15 minutes.
It's 1 of small onion, chopped.
It's 1 tsp. of ginger-garlic paste.
Prepare to taste of salt.
Prepare 2 tbsp. of oil.
You need 1/2 tsp. of cumin seeds.
Prepare 1 tsp. of coriander-cumin powder.
It's 1/2 tsp. of garam masala powder.
It's 1/2 tsp. of red chili powder.
You need 1/2 tsp. of turmeric powder.
You need 1 cup of atta (whole wheat flour).
It's 1 tbsp. of oil to knead.
It's of oil to shallow fry.
Keema & Couscous Paratha instructions
Knead the atta, 1 tbsp. oil and enough water to make a dough. keep aside. Heat 2 tbsp. oil in a pan and temper with cumin seeds. Then add the onion and saute till light brown..
Now add the ginger-garlic paste, coriander-cumin powder, garam masala powder, red chili powder and turmeric powder mixed with little water. Saute till the oil separates..
Add the mince and salt and fry till dry. Add 1 cup water and cook, covered on a low flame till done and till all the moisture dries up..
When cool, mix with the couscous and salt to taste. Keep aside. Divide the dough and the keema-couscous filling into equal portions..
Roll out one portion of the dough into a small circle. Place a portion of the filling and bring all the edges together and close..
Roll into a circle with the help of some atta and keep aside. Roll the rest of the dough in the similar manner with the filling..
Heat the tawa / griddle and fry the parathas with the help of some oil on both sides till light brown. Serve with some yoghurt or pickle..