Soto Ayam (Indonesian Yellow Chicken Soup).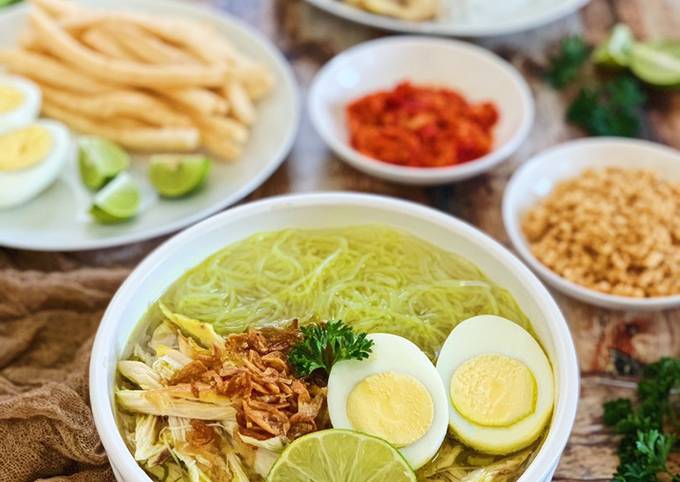 You can cook Soto Ayam (Indonesian Yellow Chicken Soup) using 23 ingredients and 5 steps. Here is how you cook that.
Ingredients of Soto Ayam (Indonesian Yellow Chicken Soup)
Prepare 500 ml of vegetable oil to fry the chicken.
It's 1 of whole chicken, divided into 4.
Prepare 2 of lt water.
It's 8 of kaffir lime leaves.
It's 4 stalks of lemongrass, take the white part only (which is on the bottom), pounded.
It's 4 of green onions, chopped.
You need 1,5 tsp of salt or to taste.
It's 1/2 tsp of white pepper powder or to taste.
Prepare 1/2 tsp of chicken bouillon.
It's 1 Tbsp of vegetable oil.
You need of Ground spices: (blend in a food processor).
It's 7 cloves of garlic.
Prepare 8 cloves of shallots.
You need 3 pcs of candle nuts.
Prepare 1 tsp of nutmegs powder.
Prepare 3 cm of turmeric.
It's 2 cm of ginger.
You need of Chili sauce: Boil 5 bird eye chili peppers + 2 red chili peppers + 5 cloves garlic until soft. Remove from the heat. Grind all the ingredients using a mortar and pestle. Add 1/4 tsp salt.
You need of Koya topping: Grind 5 cloves fried garlic + 8 fried prawn crackers using a mortal and pestle.
It's of For the complement:.
Prepare 4 of hard boiled eggs, peeled, cut.
Prepare 50 gr of mung bean vermicelli, soaked in boiled water for 3 minutes, removed from the heat, drained.
You need of some lime wedges.
Soto Ayam (Indonesian Yellow Chicken Soup) instructions
Heat 1 Tbsp vegetable oil in the wok over medium-heat. Sauté the ground spices, kaffir lime leaves, and lemongrass until fragrant. Remove from the heat..
Boil chicken and ground spices in a big pot until the chicken is cooked.Take out the chicken from the pot. Set the chicken aside..
Add chopped green onions into the soup..
In a pan, fry the chicken for a while in vegetable oil. Remove from the heat. Cut the chicken into small pieces..
Place some white rice, some mung bean vermicelli, chicken meat, and some hard boiled eggs in a bowl. Pour the hot chicken broth into the bowl. Add some lime juice into the soup and koya topping on top. Yum! 😋.