Kolkata Style Chicken Biriyani.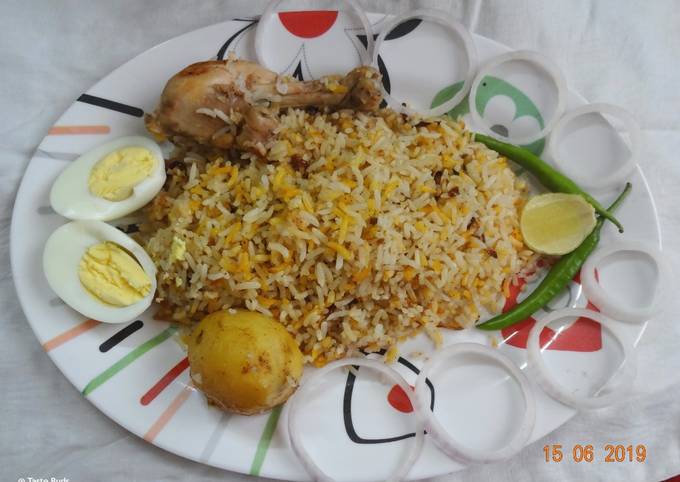 You can have Kolkata Style Chicken Biriyani using 27 ingredients and 8 steps. Here is how you achieve that.
Ingredients of Kolkata Style Chicken Biriyani
You need of For Biriyani Masala:.
It's 2 tbsp of Shahi Jeera.
Prepare 2 tbsp of Coriander Seeds.
Prepare 7/8 of Black Peppercorns.
You need 8/9 of White Peppercorns.
You need 2/3 of Black Cardamom.
It's 7/8 of Green Cardamom.
You need 1 of whole nutmeg (jaifal).
You need 2/3 of whole maces (javetri flower).
It's 6/7 of Cloves, 1/2 Cinnamon Sticks,.
It's 2 of Star Anise, 2 tbsp Fennel Seeds, half tbsp Kabab Chini.
Prepare of For Chicken Marination:.
It's 500 gms of Chicken cut into medium pieces.
It's 2/3 of Big Onions very thin sliced (for beresta).
Prepare 2 tbsp of Ginger-Garlic-green chilli paste.
Prepare 500 gms of hung curd.
You need 1/2tbsp of Red Chilli powder.
Prepare to taste of Salt, Sugar.
It's as needed of Vegetable Oil, Ghee.
You need of For Biriyani Rice:.
It's 500 gms of Basmati Rice.
You need 2 tbsp of each Rose Water, Kewra water.
You need 3/4 of Potato cut into medium pieces.
Prepare 4/5 of Green cardamom, 2/3 Bay leaves, 4/5 Clove, 1 Cinnamon stick.
It's as needed of Saffron Milk (Saffron soaked in warm milk for 30 minutes).
You need 100 gms of Khova.
It's as needed of Boiled Eggs.
Kolkata Style Chicken Biriyani step by step
Dry roast all the whole spices in a hot tawa for 3-4 mins (make sure they don't get burnt). Take them off the heat and let them cool a little. Put all the spices in blender and make fine powder…keep it aside..
Marinate the chicken pieces with curd, red chilli powder, ginger-garlic-green chilli paste, and salt for 45 minutes to 1 hour.
Wash Basmati Rice very well and soak in water for 30 mins. Take a clean piece of cotton cloth, put the whole spices in it and tie a knot. Now heat the water and put the cloth in it. Once the water comes to boil add the soaked rice. Add little salt. Cook for 3-4 mins and drain the water. Remove the spices..
Heat 2 tablespoons of ghee/oil in a deep & heavy bottomed pan.fry potato pieces and keep aside. Add chopped onions and very little sugar (for caramelise) fry till soft and lightly browned….this is called beresta. Keep it aside..
Now again heat oil/ghee in pan, add chopped onions. Add the marinated chicken once the onion is translucent. Sprinkle 1 tbsp of prepared Biriyani Masala and cook for 10-12 mins covered with lid on low flame. Add little water if required..
Take a heavy bottomed pan grease well with ghee or oil. First put the potatoes, chicken legs at the bottom, top it up with 2 tbs of gravy, add a layer of rice, beresta, sprinkle biriyani masala, sprinkle shredded khova, few drops of rose and kewra water, 2 tbsp saffron milk. Prepare several layers like this. Finish it with a dollop of ghee..
Seal the mouth of the pot with wheat flour dough to tighten the lid. Cook this on low heat for 10 to 15 minutes and let it stand for another 30 minutes before opening..
Chicken Biriyani is ready. Serve it with Chicken pieces, potatoes and boiled egg..