Baked Appe Muffins.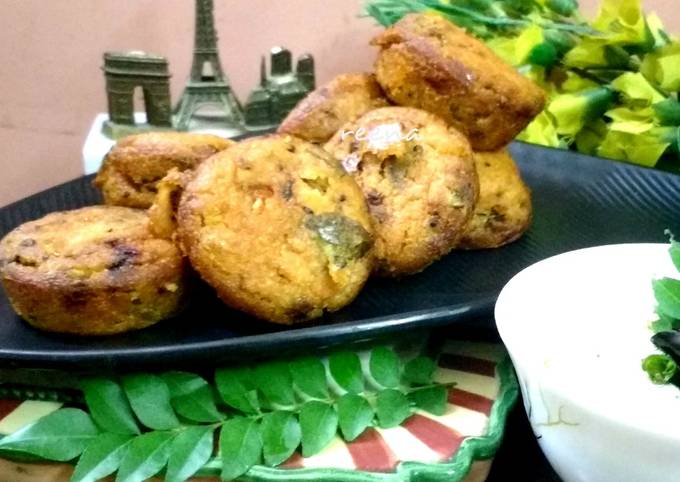 You can cook Baked Appe Muffins using 21 ingredients and 6 steps. Here is how you cook it.
Ingredients of Baked Appe Muffins
You need of Ingredints for Batter:.
Prepare 1/2 cup of Urad Dal.
It's 2 tblspn of Chana dal , soaked in water for-1 hr.
It's 11/4th cup of Flat rice/, soaked in water for 15 mins.
It's of Methi soaked in water along with urad dal.
It's 1 cup of Rice flour, soaked in 1 cup water for 15 mins.
Prepare of Vegetables:.
Prepare 1/4th cup of Chopped onion.
It's 2 tblspn of Chopped/grated carrots.
It's 2 tblspn of Chopped green beans.
You need 2 tblspn of Chopped bell peppers.
Prepare 1/4th cup of Chopped coriander.
Prepare to taste of Salt.
Prepare of Tampering:.
You need Bunch of curry leaves.
It's 2 tbspn of Chopped green chilli.
You need 1 tspn of Mustard seeds.
Prepare 1 tspn of Cumin seeds.
You need 2 cut 1:4 of Whole dry red chilli.
Prepare 2 tblspn of Oil for Tadka/Tampering.
Prepare 2 tblspn of Oil for greasing the muffin/appe pan.
Baked Appe Muffins instructions
Make the Batter: Grind all the soaked ingredients one by one. Now mix everything with rice flour and again grind all together to make a fine batter. Ferment this batter in a bowl with tight lid at least for 8 hrs or till it gets fermented nicely..
Add all other vegetables in the batter. Add salt and chopped coriander. Mix the batter well..
Tadka/Tampering: In a pan heat oil for Tadka. Add whole red chilli cumin seeds and mustard seeds. Let it splatter. Add curry leaves. Fry for a second. Add onions. Stir till just translucent. Cool a little then add to the fermented batter..
Baking: Pour ½ tspn of oil in all moulds. Then pour the batter in the mould till neck. Half fill one mould with water. Cover the muffin tray with same sized tray like a lid or with silver foil covered from all side. Pre heat oven in 200degrees for 10 min. Bake the appe covered for 15 mins. Take out the tray..
Flip the appes and bake again for 5-7 mins or till all are cooked. Take off the lid/cover. If you wish to brown the appes then bake it open for 3-4 min in hot oven..
Appe are ready to serve. Best paired with coconut chutney..