Kathal Dum Biryani.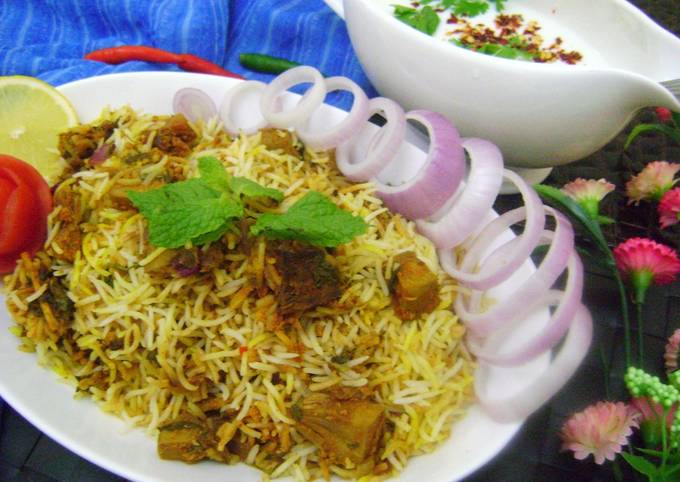 You can have Kathal Dum Biryani using 29 ingredients and 7 steps. Here is how you cook that.
Ingredients of Kathal Dum Biryani
It's 1 cup of Basmati rice, soaked in water for 30 minutes.
It's 1 inch of cinnamon stick.
Prepare 1 of star anise.
It's 2 of green cardamom.
It's 2 of big cardamoms.
Prepare 4 of cloves.
You need 1 of mace.
Prepare 1 of bay leaf.
It's 1 tsp of oil.
You need 1 of small Kathal (Jackfruit), cubed & soaked in water.
Prepare As needed of oil to deep fry.
It's 1 cup of yoghurt.
It's 1 cup of fried onions.
You need 1 tbsp of ginger-garlic paste.
Prepare 1/2 tsp of turmeric powder.
Prepare 1 tsp of ginger julienne.
You need 2 of fresh chilies, slit.
You need 1 tsp of red chilli powder.
Prepare to taste of salt.
It's 1 tsp of garam masala powder.
It's of juice of half a lemon.
You need as needed of rose petals (opt).
Prepare 2 tbsp of ghee.
You need as needed of coriander leaves, chopped.
You need As needed of mint leaves, chopped.
You need of few strands of saffron soaked in 1/4 cup milk.
Prepare 1 tsp of rose water.
Prepare as needed of onion rings, lemon wedges and mint leaves to garnish.
It's as needed of Raita to serve.
Kathal Dum Biryani instructions
Bring sufficient quantity of water to boil. Add cinnamon, both the cardamoms, cloves, bay leaf, star anise, mace, 1 tsp. oil and salt to taste. Add in the rice and simmer till half done. Drain and keep aside..
Heat oil in a pan and deep fry the jackfruit pieces till light golden. Drain and keep aside..
Mix yogurt, 1/3 fried onions, ginger-garlic paste, salt, turmeric powder, red chilli powder, slit fresh chilies, lemon juice, 1 tbsp. melted ghee garam masala powder, 1/3 coriander leaves, 1/3 mint leaves and ginger juliennes..
Add the jackfruit pieces and mix well..
Transfer to the pan in which it is to be cooked. Spread half of the coriander leaves, mint leaves, fried onions and 1/2 of the rose petals..
Spread a layer of the rice, remaining coriander-mint leaves, fried onions, rose petals, ghee, saffron milk and rose water. Cover tightly with an aluminium foil and cook for 2 minutes on high flame and 12-15 minutes on a griddle on a very low flame..
Garnish with mint leaves, onion rings and lemon wedges. Serve with raita of your choice..