Mutton Kaleji Biryani.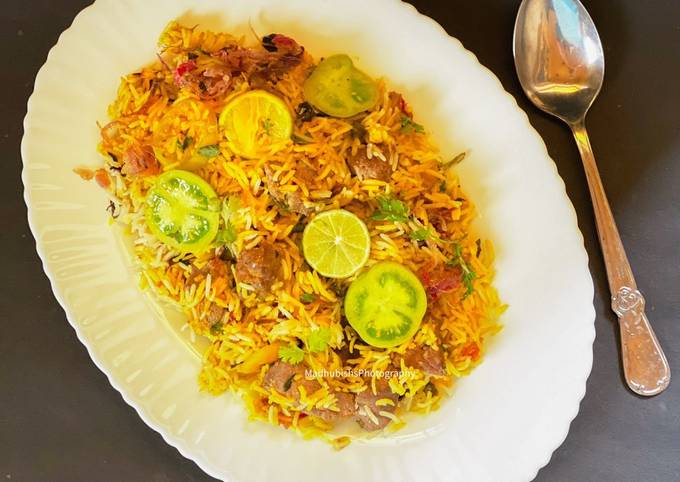 You can have Mutton Kaleji Biryani using 24 ingredients and 11 steps. Here is how you cook that.
Ingredients of Mutton Kaleji Biryani
Prepare of For Mutton Kaleji.
You need 250 gms of mutton liver cut into 1" pieces.
Prepare 1 tsp of garlic paste.
You need 1 of large onion chopped fine.
It's 1-2 of medium size tomatoes chopped.
It's 1/2 cup of ghee.
You need 1/2 cup of yoghurt beaten.
It's 1 Tbsp of Biryani masala.
You need 1 tsp of edible food colour.
You need to taste of Salt.
It's of For Biryani.
It's 2 cups of Basmati Rice soaked for 30 mins.
Prepare 1 tsp of green cardamoms.
You need 2-3 of star anise.
Prepare 1 tsp of whole black peppercorns.
It's 1 tsp of cloves.
You need 4 cups of water.
It's 1 Tbsp of oil.
Prepare to taste of Salt.
Prepare of For garnish.
You need 2 of Lime wedges.
You need 2-3 of Tomatoes sliced.
Prepare 3 tsp of Coriander leaves chopped.
It's 2 tsp of Mint leaves chopped.
Mutton Kaleji Biryani step by step
For Biryani – cut the Mutton liver to 1" chunks, slice the onions, cut the tomatoes, chop the green chillies and coriander and mint keaves.
In an iron karai heat ghee and add chopped onions and fry until brown in colour. Set aside.
Add salt to the ghee so that the kaleji's are soft when cooking and not hardened and add mutton Kaleji. Fry until red colour of Kaleji are gone and add chopped tomatoes, chopped green chillies. Stir on low flame.
Add beaten yoghurt and Biryani masala and cook until ghee is visible on surface. Add half fried onions. Retain half. Cook for 10 mins. When ghee is visible on surface increase the flame and make a semi gravy consistency. Set aside.
The consistency once cooked.
For Biryani – take a heavy bottomed bowl and add water, bring it to heat, add green cardamoms, cloves, star anise, whole black peppercorns, salt.
Add soaked rice, add oil to avoid the rice to stick to each other, cook until 90% done. Drain.
Rice would be like this.
In a heavy bottomed bowl add the Kaleji masala and retain a part, add most of the rice and retain a part, add half fried onions, sliced tomatoes, sliced lines, chopped coriander, mint leaves.
Add food colour and rest of the rice, Kaleji masala, fried onions and put on Dum on low flame for 15 mins..
Plate and garnish with lime wedges, tomato slices and enjoy hot.